ROUTES AND OPERATING AREAS
The Fukuoka Subway System consists of the Kuko Line, which operates between Meinohama and Fukuokakuko (Airport), the Hakozaki Line, which operates between Nakasu-kawabata and Kaizuka, and the Nanakuma Line, which operates between Hashimoto and Tenjin-minami.
At Nakasu-Kawabata Station, passengers can transfer between the Kuko and Hakozaki Lines. Some Hakozaki Line trains connect with the Kuko Line, making it possible to ride between Kaizuka and Meinohama or Nishijin without transferring at Nakasu-Kawabata.
When transferring between the Nanakuma and Kuko or Hakozaki Lines, please make sure you use the transfer gate and don't forget your ticket. It is convenient to use the Tenjin Underground Shopping Mall.
Trains operate between 5:30 am and 0:25 am.Trains will come every 4-8 minutes.
SUBWAY ROUTE MAP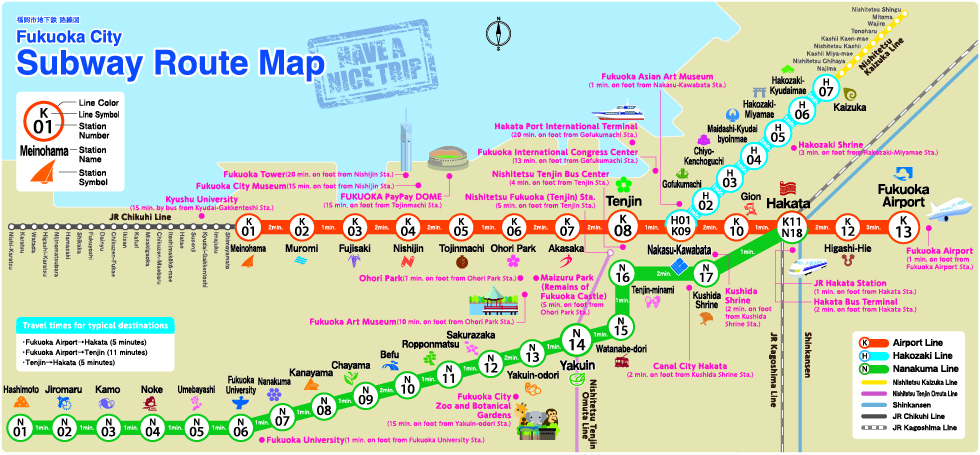 Details ROUTE MAP(

PDF:548KB)
Time Required Kuko Line

Fukuokakuko(Airport) Higashi-Hie Hakata Gion Nakasu-Kawabata Tenjin Akasaka Ohorikoen(OhoriPark) Tojinmachi Nishijin Fujisaki Muromi Meinohama
Time Required Hakozaki Line

Kaizuka Hakozaki-Kyudaimae Hakozaki-Miyamae Maidashi-Kyudaibyoinmae Chiyo-Kenchoguchi Gofukumachi Nakasu-Kawabata
Time Required Nanakuma Line

Tenjin-minami Watanabe-dori Yakuin Yakuin-odori Sakurazaka Ropponmatsu Befu Chayama Kanayama Nanakuma Fukudai-mae Umebayashi Noke Kamo Jiromaru Hashimoto