SUBWAY INFORMATION SERVICE
For inquiries about fares, schedules, lost & found, etc.

Subway Helpline Tenjin station east entrance 092-734-7800 (8:00~20:00 daily,including holidays)
Foreign Language Services
Telephone interpretation services (17 languages) are available at all subway station customer service counters, and can assist with a wide range of questions. Please feel free to take advantage of this complimentary service.
Service Hours
8:00 - 20:00 (seven days a week)
System
a. At the station counter: the customer and station staff are able to communicate through an interpreter over the phone, by passing the receiver back and forth. This service is free of charge.
b. By calling the call center: the customer and station staff are able to communicate through an interpreter, using a three-way conference call.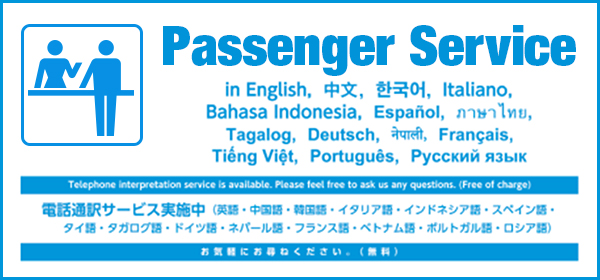 Passenger Service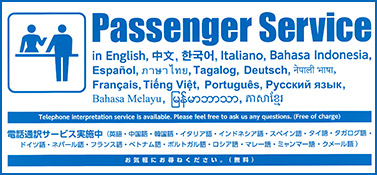 FINDING THE ENTRANCE TO A SUBWAY STATION
Subway Entrances
fukuoka city subway logo station number station logo
The Fukuoka City Subway logo, station number, and station logo can be found at every subway entrance.
Purchasing a ticket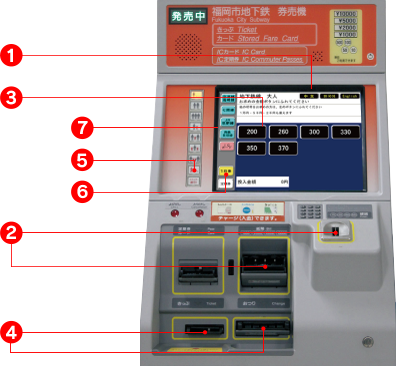 ・Ticket vending machines are available in all stations.
Press
for English.
・Fare buttons illuminate according to the sum of money inserted into the slot

.
Machines do not accept ¥1 or ¥5 coins.
・Find your destination on the overhead map and confirm the printed fare. Press the corresponding 'fare' button

.
*To buy a child ticket, press

. To buy a 1 day pass, press

,
then press

(the fee selection button).
*To use the JR Chikuhi Line or the Nishitetsu Kaizuka Line, first press button

(the line selection button), then press butto

(the fee selection button).
・When finished, be sure to collect your ticket and change from the tray

.
Using the automated ticket gates
Automated ticket gate
IC card reader for HAYAKAKEN
Passenger tickets (regular ticket, day pass)
Insert your ticket into any automated gate. Upon successful validation, the gate will open. Don't forget to retrieve your ticket at the other end.
"HAYAKAKEN" IC cards
Firmly press the "HAYAKAKEN" card against the card reader and the gate will open.
Introduction video
The video can be viewed at:Official YouTube channel of Fukuoka Convention & Visitors Bureau.
How to take the Fukuoka City Subway.
BOARDING THE SUBWAY TRAIN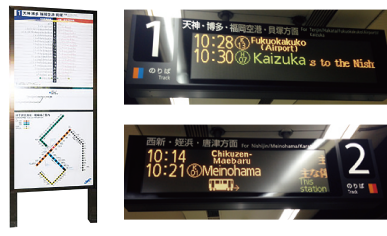 Please confirm your destination and platform by checking the destination and departure times displayed on the information boards found on the concourses and platforms. Trains going to Fukuoka-kuko and Kaizuka stop at the same platforms between Meinohama Station and Tenjin Station, so be careful not to get on the wrong train. The last station is also displayed on subway cars.
Passenger Guidelines
Avoid using cell phones inside
subway cars

For your safety, do not rush
onto subway cars

Please use seats
considerately

Do not shout or make
unnecessary noise